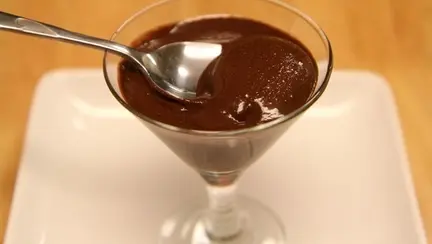 231 – Homemade Chocolate Hazelnut Spread (Nutella Style Recipe) / سبريد شوكولاته البندق – نوتيلا
5 oz (150 grams) raw whole hazelnuts
5 oz (150 grams) good quality dark chocolate (at least 60% cocoa)
1/2 cup (57 grams) powdered sugar
1 tablespoon unsweetened cocoa powder
1 tablespoon vegetable oil
1 teaspoon vanilla extract
A pinch of salt
Step 1: Preparing the Ingredients
1- On medium low heat roast in a pan the raw hazelnuts.
2- After 10 minutes of roasting the hazelnuts, you will notice that their skin is coming off and also that they start diffusing a wonderful smell.
3- Place the hazelnuts in a bowl, and rub them with your fingers to remove the skin. The skin should come off easily, otherwise, they required more roasting.
Step 2: Making the Spread
1- Place the hazelnuts in a food processor and mix them until you get a very smooth texture.
2- Add the vegetable oil (or almond oil) to the hazelnut powder and continue mixing. You will get a sort of hazelnut paste.
3- Melt the dark chocolate. You can also use milk chocolate instead.
4- Add the melted chocolate to the hazelnuts in the food processor. Add the unsweetened cocoa powder, a pinch of salt, powdered sugar, and vanilla extract.
5- Mix all the ingredients until you get a very smooth paste. From time to time scrape the sides of the food processor to get all the ingredients well incorporated.
6- Place the spread in a jar and store in your pantry.
Bon Appetit!