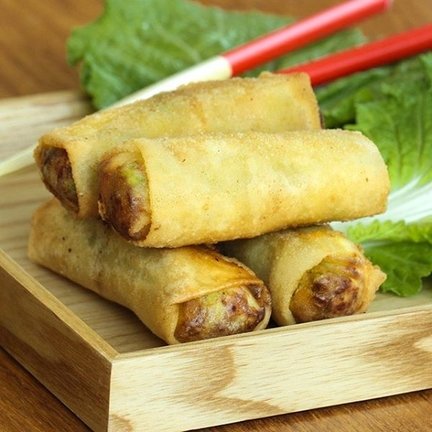 380 – Vegetarian spring rolls / لفات الخضر
1 onion (grated)
A handful of mushroom
1 carrot (grated)
1 zucchini (grated)
Salt and pepper (to taste)
Olive oil for cooking the vegetables
Cream cheese
Springroll dough (or Warka, or phyllo dough)
1 egg + a bit of water (eggwash)
Vegetable olive for frying
Step 1 – Making the Vegetarian Stuffing: 
1- Peel the onion, cut in half, and grate it using the large holes of the grator
2- Drizzle olive oil in a large pan and heat on medium-heat for 1 minute. Add the grated onion. Redue the heat to low heat, and continue preparing the rest of the vegetables.
3- The slice the mushroom and add to the onions in the pan. Mix.
4- Peel the carrot and grate it using the large holes of the grator. Add to the onion and mushroom in the pan.
5- Cut the tips of the zucchini and grate the entire zucchini using the large holes of the grator.
6- Increate the heat to medium-heat, continue cooking the onion, mushroom slices, and grated carrot.
7- Taste the carrots. When the carrots are half cooked (they become a bit soft) add the grated zucchini to the pan and continue cooking.
8- Add salt and pepper to taste.
9- Remove the vegetable mixture from the heat once done. Make sure not to overcook the vegetables, we still want a bit of crunchiness in them.
10- Let the vegetable mixture completely cool down before using it.
Recipe 1: Springrolls 
1- Use a square shaped springroll dough (or warka)
2- Put some of the vegetable mixture in the edge of the dough closest to you. Top it with a bit of cream cheese.
3- Roll the edge of the dough over the filling, fold both sides of the warka  to the center, then roll the edge that contains the filling as if you were rolling a carpet.
4- Brush the edge with the egg wash… finish rolling and VOILA. It's ready!
5- Heat vegetable oil in a deep pan. Once hot, fry the springrolls until they have a golden brown color.
6- Remove the springrolls from the oil and place in a plate covered with paper towel to absorb any excess oil.
7- Serve immediately!
Recipe 2: Vegetarian pockets
1- Take a square shaped springroll dough (or warka). Brush with melted butter or olive oil.
2- Place a bit of the vegetable mixture in the center and top it with cream cheese.
3- Bring all the edges of the dough to the center to create a small pocket.
4- Use a toothpick or thin herbs to close the pockets.
5- Place the pockets in muffin tin (brushed with melted butter) or a baking pan covered with parchment paper.
6- Bake on a preaheated oven to 400 F / 200 C for 15 minutes or so until the dough becomes golden brown.
7- Serve immediately