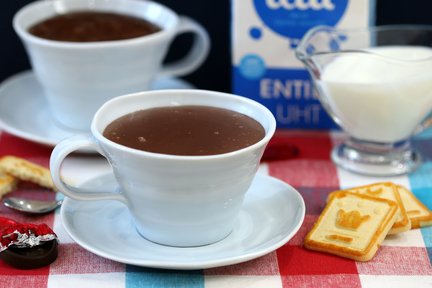 465 – Hot Chocolate / (مشروب الشوكولاتة الساخنة (الهوت شوكليت
100 grams (3.5 oz) dark chocolate
500 ml (2 cups) milk
40 grams (3 tablespoons) sugar (to taste)
10 grams (1 1/2 tablespoons) unsweetened cocoa powder
Large pinch of ground cinnamon
Pinch of salt
12 grams (1 1/2 tablespoons) cornstarch
50 ml milk (for mixing cornstarchh)
1- In a saucepan, combine the 500 ml of milk, sugar, cocoa powder, cinnamon, and salt. Whisk until all the ingredients are well combined.
2- Heat the milk until it reaches a boiling point. Meanwhile, chop de dark chocolate.
3- Add the chocolate to the milk and whisk until it completely dissolves.
4- Dissolve the cornstarch in the 50 ml of milk, and add it to the hot chocolate.
5- Cook on medium high heat for 2-3 minutes until the hot chocolate thickens. Stir constantly with a spatula.
Serve hot.