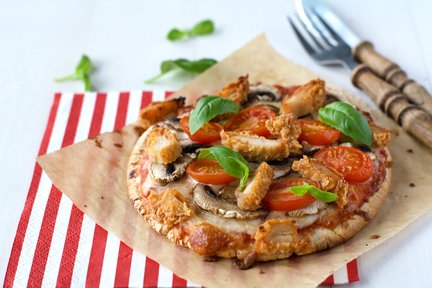 472 – KFC Pita Pizza / بيتزا بيتا بدجاج كنتاكي
1 box of KFC crispy strips

2 Pita breads

1 cup tomato sauce

5 cherry tomatoes

5 white mushrooms

1 cup shredded Mozzarella cheese (or any cheese of your choice)


A bunch of fresh basil leaves
Step 1: Preparing the ingredients
1- Preheat your oven to 400F / 200C
2- Slice your KFC crispy strips into bite sized pieces. Cut the cherry tomatoes in half and the mushrooms into thin slices. Chop the basil leaves.
Step 2: Assembling the pizza
1- Spread some tomato sauce on each pita bread.
2- Top with the shredded cheese.
3- Layer with the cherry tomatoes, mushroom slices, and KFC crispy strips.
5- Bake for 15 minutes at 400F / 200C until the cheese has melted and the edges of the pitta breads become deep golden brown.
6- Top with chopped basil and serve immediately!