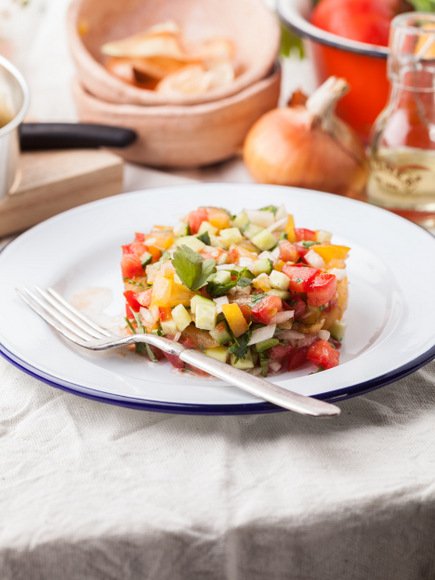 543- Tomato Cucumber Salad / سلطة الطماطم والخيار
300 grams fresh tomatoes (you can use tomatoes in different colors)
1 small cucumber
1 small onion
A small bunch of cilantro
Juice of 1/4 lemon
1 tablespoon vegetable oil
1/4 teaspoon salt
1/4 teaspoon pepper
The secret of the salad is how small you can chop the tomatoes, cucumber, and onion. When they are chopped into small pieces, then you get all of them in a bit and it makes a huge difference!
1- Chop the tomatoes (with the skin), the cucumber, and onion into very small pieces.

2- Place them in a large bowl.

3- Chop the cilantro and add it to the bowl.
4- Add the lemon juice, vegetable oil, salt and pepper to taste.
5- Mix well.


Serve this salad cold! You can make it look fancy by plating it using a large cookie cutter that you put on a plate, fill it with the salad, pack, then slowly remove the cookie cutter.