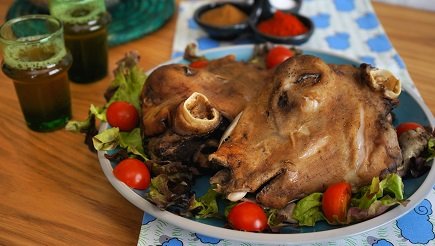 738- Lamb Head / رأس خروف
Cook time :
1 hour 30 minutes
1 lamb head
1 tablespoon vegetable oil
1/2 teaspoon cumin
1/2 teaspoon coriander powder
1/2 teaspoon salt
1 tomato, sliced
Water
To serve:
Chili pepper, to taste
Cumin, to taste
Salt, to taste
1- In a small bowl, combine the vegetable oil, 1/2 teaspoon of cumin, 1/2 teaspoon of coriander powder, and 1/2 teaspoon of salt. Mix well.
2- Brush the head of the lamb with the oil spice mixture and set aside.
3- Fill the bottom part of a steamer or couscous pot with water and add sliced tomato. The tomato will prevent your pot from getting a dark color.
4- Place the head in the top part of the steamer or the couscous cooker, tongue facing down. This will keep the skin in a good shape.
5- Cover with a layer of parchment paper then cover again with a layer of foil paper. Let steam for 1 hour and 30 minutes.
6- Serve with chili pepper, cumin, salt.