785- Fluffy Bread / خبز ناعم
Prep time :
1 hour 15 minutes
1 Kilogram (5 cups) all-purpose white flour
1 teaspoon baking powder
1 teaspoon salt
240 milliliters (1 cup) lukewarm milk
240 milliliters (1 cup) lukewarm water
1 tablespoon dry yeast
2 tablespoons granulated sugar
120 milliliters (1/2 cup) vegetable oil
1 egg white
100 grams (1/2 cup) butter, at room temperature
250 grams (9 oz) grated mozarella
50 grams (1/2 cup) sesame seeds 
2 egg yolks 
2 tablespoons milk
1- In a large bowl, add the flour, baking powder, salt, and mix with a spatula until well combined.
2- In another large bowl, add the milk, water, dry yeast, granulated sugar, vegetable oil, egg white, and mix all the ingredients together with a whisk until well combined.
3- Add the flour little by little to the milk mixture and mix using hands until a smooth dough ball is formed. If the dough is not coming together, add 2 to 3 tablespoons of flour.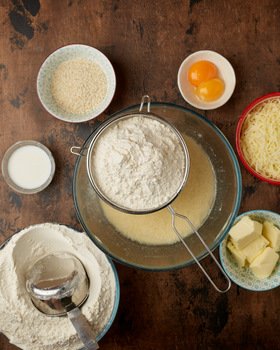 4- Add the butter to the dough and continue mixing until well incorporated.
5- On a working surface, knead the dough for 10 minutes until it becomes homogeneous, soft, and no longer sticky. 
6- Put the dough back to the bowl, cover with a clean kitchen cloth, and let it rise for 1 hour until it doubles in size.
7- Divide the dough into 15 equal balls, slightly spread each ball using your hand palm, and place some grated mozzarella cheese in the centre. 
8- Bring back the edges of the dough into the center on top of the mozzarella cheese and shape into buns.
9- Place the stuffed buns near to each other on a baking sheet covered with parchment paper.
10- Mix the egg yolks and milk in a small bowl, brush the surface of the stuffed buns, and sprinkle them with sesame seeds.
11- Cover the buns with parchment paper and let them rise for another 15 minutes.
12- Bake the buns in a preheated oven at 200°C (392°F) for 25 minutes until golden brown.
13- Remove the fluffy breads from the oven and cover with a clean towl for 10 minutes to make them tender. Serve warm.