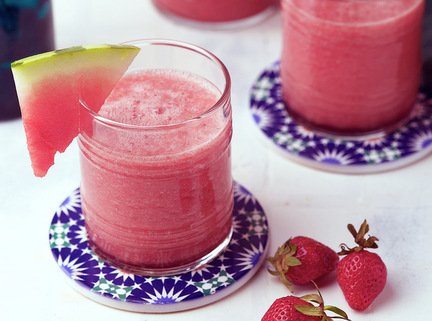 792- Watermelon Smoothie / عصير البطيخ
For the smoothie:
400 grams (14.1 oz) watermelon
90 grams (3.1 oz) strawberries, cut into cubes
2 oranges 
1/2 banana
1 tablespoon light brown sugar
1- Juice the oranges using a hand juicer.
2- Clean and remove the seeds from the watermelon then cut it into cubes.
3- In a blender, add the watermelon, strawberries, orange juice, banana, light brown sugar, and blend all the ingredients until the texture becomes smooth and well combined.
4- Serve the watermelon smoothie cold with ice cubes if desired.