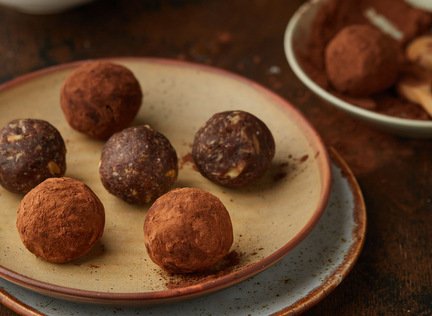 794- Healthy Brownie Balls / كريات البراوني الصحية
100 grams(3.5 oz) oat flour
70 grams (2.4 oz) peanut butter
2 tablespoons unsweetened cocoa powder
1 tablespoon honey
12 medjool dates, pitted
100 grams (3.5 oz) chopped walnuts, roasted
3 tablespoons almond powder
1 tablespoon unsweetened cocoa powder for decoration
1- In a food processor, add the oat flour, cocoa powder, peanut butter, honey, and mix for 30 seconds until the ingredients are combined.
2- Add the medjool dates, almond powder, half quantity of the roasted walnuts, and continue mixing until the mixture is nicely crushed and becomes a bit sticky. The mixture may look crumbly, but it should hold together once formed into balls.
3- Place the mixture in a medium bowl, add in the remaining half of the roasted walnuts, and gently mix with a spatula until well combined.
4- Using a tablespoon, take some of the brownie dough mixture and roll it into balls walnut size.
5- Put one tablespoon of cocoa powder into a bowl and start rolling some healthy brownie bites balls in it until fully covered.
6- Place the healthy brownie balls in the refrigerator for 1 hour before serving.
7- You can put the healthy brownie balls in an airtight container and store them in the fridge for up to 4 days, or for a month in the freezer.