796- Tuna Quiche / كيش بالتونة
For the crust:
250 grams (8.8 oz) all-purpose white flour
125 grams (4.4 oz) butter
1 egg
1 teaspoon garlic powder
1 pinch of salt
For the filling:
120 grams (4.2 oz) canned tuna, drained
2 medium zucchinis, cut into fine slices
2 garlic cloves, grated
1 medium onion, chopped
3 tablespoons olive oil
200 grams (4.2 oz) spinach
80 grams (2.8 oz)mozzarella cheese, cut into slices
Salt and pepper, to taste
4 eggs
200 millilitres (4.2 oz) heavy cream
1 tablespoon milk
Step 1: Preparing the crust
1- In a large bowl, add the flour, butter, and mix with hands until the mixture texture becomes crumbly and very well combined.
2- Add the egg, garlic powder, salt, and continue mixing until a smooth dough ball is formed. 
3- Cover the dough with a plastic wrap and place it in the refrigerator for 20 minutes.
4- Dust some flour on your working surface. And roll the dough out using a rolling pin to a medium thickness (1 cm).
5- Place the dough in a round tart mould (20 cm x 3 cm) greased with some butter, or covered with parchment paper. Remove the excess of the dough from the mould edges using a knife.
6- Prick the base of the dough all over with a fork and bake it in a preheated oven at 180°C (356°F) for 10 minutes. Set aside.
Step 2: Preparing the filling
7- In a large pan, add 1 tablespoon of olive oil and heat over medium heat. Add the zucchini slices, grated garlic, salt, pepper, and cook for 5 minutes until they become slightly brown. Remove from the heat and set aside to cool.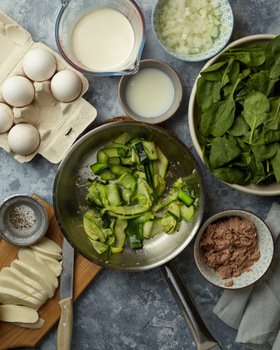 8- In the same pan over medium heat, add 2 tablespoons of olive oil. Add the onion and cook for 3 minutes stirring from time to time using a wooden spoon until soft.
9- Stir in the spinach, salt, pepper, and continue cooking for 2 minutes until soft and tender. Place the spinach and onion mixture in a bowl and allow to cool.
10- Fill the crust base with spinach mixture, roasted zucchini, tuna, and mozzarella cheese slices.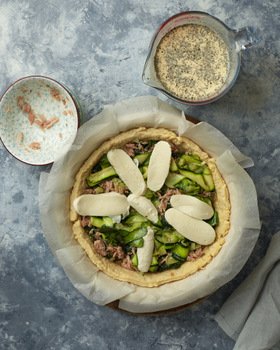 11- Whisk the eggs, heavy cream, and milk in a medium bowl until smooth. Season with salt, pepper, Italian spices mix, and pour the mixture over the filling. 
12- Place the tuna quiche in a preheated oven at 180°C (356°F) and bake for 35 minutes, or until golden brown on top. Serve immediately!