802- Beetroot & Mango Salad / سلطة البنجر (الباربا) والمانجو
500 grams (17.6 oz) beetroots, cleaned

2 large mangoes

300 grams (10.5 oz) spring mix (lettuce, spinach…)

1 medium white onion

65 milliliters (1/2 cup) rice vinegar

30 milliliters (1/4 cup) olive oil

1 teaspoon granulated sugar

1 tablespoon chopped chive

Salt and pepper, to taste
Step 1: Preparing the salad

1- Place a piece of parchment paper on top of similar sized piece of foil, then place the beetroots in the center.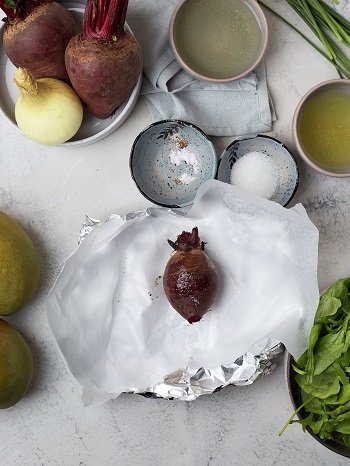 2- Drizzle the Beetroots with olive oil, add salt and pepper, then fold the papers over them.

3- Place the beetroots on a baking sheet and roast them in a preheated oven at 200°C (400°F) for about 1 hour. Make sure to check if they are completely cooked.

4- Remove the beetroots from the oven, allow them to cool for 15 minutes, then take off the skin.

5- Cut the beetroots in medium quarters and put them in a bowl.

6- Peel and cut the mangoes into slices and place them in a separated bowl.

7- Peel and finely chop the onion, put it in a bowl and set aside.
Step 2: Preparing the vinegar sauce

8- In a medium bowl, add the rice vinegar, olive oil, sugar, chopped chive, salt, and pepper. Whisk all the ingredients until an homogeneous sauce is obtained.
9- On a serving plate, place the spring mix, the beetroot, mango, the onion slices, and pour the sauce over the salad. Make sure to not mixing the beetroots with the mangoes or all the salad will turn red.

10- Garnish the beetroots and mango salad with extra chopped chives if desired and serve.