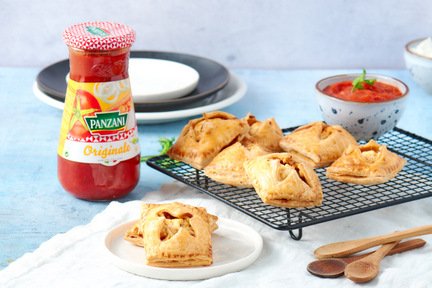 808- Puff Pastry with Ground Beef / فطائر العجينة المورقة باللحم المفروم
3 tablespoons Panzani Original Sauce
250 grams (8.8 oz) puff pastry dough
150 grams (10.5 oz) ground beef
1 small onion, chopped
50 grams (1.7 oz) cheese, grated
1 teaspoon dried thyme
Salt and pepper, to taste
1 egg
1 tablespoon milk
1- In a large saucepan over medium heat, heat the olive oil. Add the onion and cook for 3 minutes until golden brown.
2- Add the ground meat, salt, pepper, and cook for another 5 minutes until all is cooked. Add the thyme.
3- Turn off the heat, pour the Panzani original sauce over the ground meat and mix using a spatula until well combined.
4- Cut the puff pastry into medium squares.
5- Place a tablespoon of the ground meat mixture in the middle of the dough and top with the cheese.
6- Roll the dough and make an "x" mark using a knife on top.
7- Place the Puff pastry with Panzani sauce and ground meat on a baking sheet covered with parchment paper.
8- In a bowl, mix the egg and milk using a fork until well combined.
9- Brush the Puff pastry squares with the eggs mixture, and cook in a preheated oven at 180°C (356°F) for 30 minutes or until golden brown. Serve immediately!