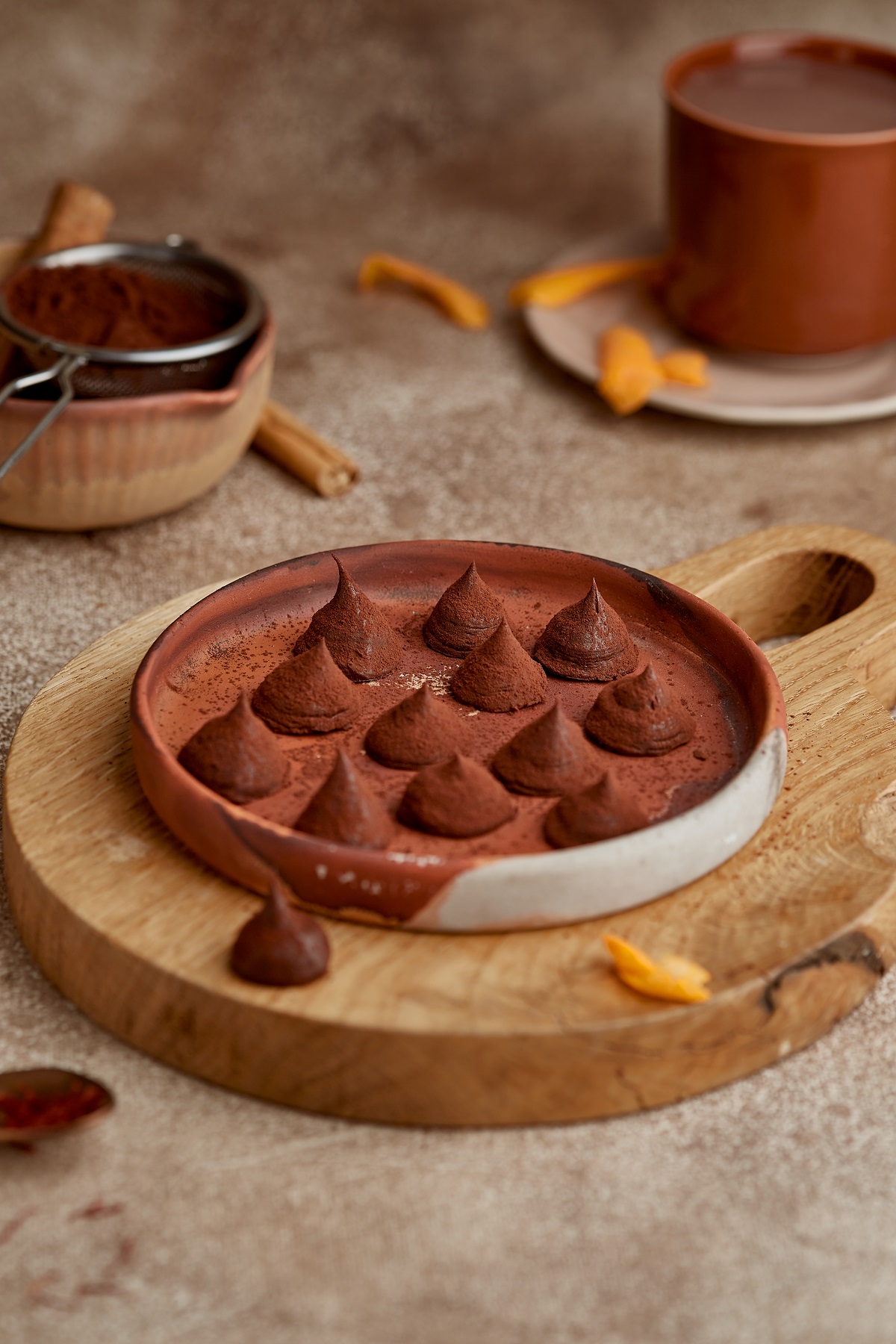 954- Chocolate Truffles / ترافل بالشوكولاتة
For the truffles
100g (3.5 ounces) dark chocolate (65% cocoa content)
100g (3.5 ounces) heavy cream
1/2 teaspoon honey
15g (1 tablespoon) butter
Choice of flavors
Peel of an orange
1 stick of cinnamon
A pinch of saffron threads
A bag of black or green tea
1 teaspoon vanilla extract or vanilla sugar
For decoration
100g (1 cup) unsweetened cocoa powder
Step 1: Preparing the truffles
1- Combine the cream and honey in a medium saucepan. Place the saucepan over medium heat, then bring the cream to a boil. Turn off the heat.
2- Immediately add your choice of flavoring to the cream mixture. Mix and set aside to infuse for 10 minutes.
3- Remove any large pieces of flavoring such as the orange peel or cinnamon stick from the cream mixture. Skip this step if you used saffron or vanilla.
4- Place the saucepan back on medium heat, then bring the cream to a simmer.
5- Place the chocolate in a medium bowl. Pour the cream over the chocolate, then set it aside for 1 minute.
6- Whisk the chocolate and cream vigorously until the chocolate is completely melted and the ganache is smooth and shiny.
7- Add the butter and whisk well. Refrigerate the ganache until it starts to firm up.
8- Place the ganache in a pastry bag. Cut off the top of the bag, then pipe small balls onto a baking sheet covered with parchment paper. Refrigerate until the truffles are completely set.
Step 2: Decorating the truffles
9- Place the cocoa powder in a bowl. Add the refrigerated truffles and roll them in the cocoa powder until they are fully covered.
10- Place the truffles in a sieve and shake to remove excess cocoa powder, then serve.