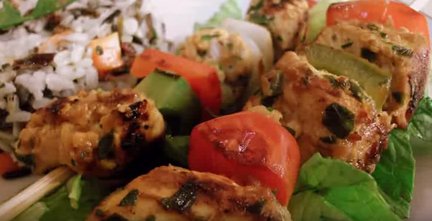 108 – Moroccan Chicken Skewers
1 pound of chicken breast cut into cubes
1 onion – grated
1/4 cup of finely chopped parseley
1 teaspoon of paprika
1 teaspoon of cumin
1 teaspoon of salt
1/4 teaspoon of pepper
1 tablespoon of lemon juice
1 tablespoon of olive oil
1 red pepper
1 green pepper
1 onion
Cherry tomatoes
Any vegetable of your choice
Steps for preparing the chicken:
1- Mix the chicken with all the ingredients (onion, parseley, spices, lemon juice, and olive oil) in a bowl.
2- Cover the bowl with a plastic wrap and let the chicken marinate in the fridge for 1-2 hours.
Steps for making the skewers:
1- For each skewer, alternate a piece of chicken with a piece of vegetable.
2- Barbecue the chicken on a charcoal BBQ or an electric grill. Rotate the skewers so that all chicken sides are cooked.
3- Serve immediately.