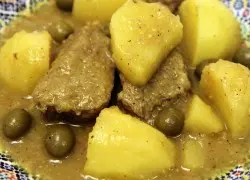 004 – Moroccan Potato Tajine
4 White Potatoes
1 Tomato
1 Large Onion
½ Cup of chopped Parsley
1 Tbsp of minced Garlic
¼ Tsp Cumin
¼ Tsp Paprika
¼ Tsp Ginger
1 Tsp Salt
½ Tsp Pepper
¼ Tsp Saffron
¼ Tsp of Bay leaves
¼ of a Lemon
2 Tbsp of Olive Oil
1.5 – 2 Cups of Water
Peel and slice all the vegetables (potatoes, tomato and onion).
On medium heat, add the olive oil and put the onions in the cooking pan and add the garlic, paprika and ginger.
Stir the onions for a couple of minutes.
Add the tomato to the onions and keep stirring.
After 3-4 minutes add the potatoes to the cooking pan and keep stirring until the potatoes are covered with the spices.
Add the parsley, salt, pepper, saffron, bay leaves and lemon. Keep mixing all the ingredients in the cooking pan.
Add the water, stir well and close the cooking pan.
Let the Tajine cook for 15-20 minutes. During this time, stir from time to time.
You might need to add another cup of water if the sauce dries up and the potatoes are not cooked yet. The Tajine is cooked when you can easily slice a piece of potato with a fork.
Turn off the heat, and let the Tajine sit for 15 minutes before serving.
Note: The Tajine is best eaten with bread.