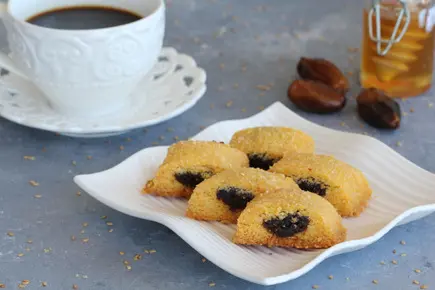 553- Makrout – Gluten Free / مقروط بدون غلوتين
Cook time :
30-40 minutes
For the dough:
100 grams (1/2 cup) corn flour
50 grams (1/3 cup) rice flour
50 grams (1 cup) corn semolina
1 tsp baking powder (Free Gluten)
1 cup boiling water
melted butter
1 tsp vanilla extract
For the date filling:
200 grams ( 1 cup) date paste
1/2 teaspoon ground cinnamon
1 tbsp sesame seeds
Honey for drizzling
Step 1: making the dough
1- Place all the ingredients beside water in a large dish.

2- Using the tips of your fingers, mix it with the melted butter until it is well coated.
3- Add water little by little until you get a soft dough.
Step 2: making the filling
4- In a bowl, mix all the ingredients together until they are well incorporated.
Step 3: shaping the makrout
5- Take half of the dough, and shape it into a log.
6- Divide the date paste into 2 portions and roll each portion into a log as long as the dough
log.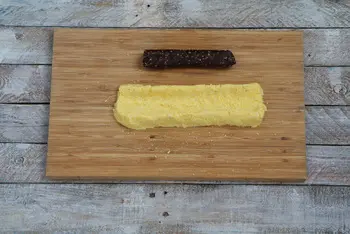 7- Flatten the dough and insert the date paste log in the center.

8- Pinch the dough around the date paste, then roll the entire log to seal it completely.

9- Slice the log with diagonal cuts into bite size cookies.
10- Transfer the makrout on a baking pan covered with parchment paper.

11- Bake in a preheated oven at 360 °F / 180 °C for 40-30 minutes or until it›s golden brown color.

12-As soon as you remove it from the oven, drizzle with honey or dip in a mix of honey and orange blossom water.