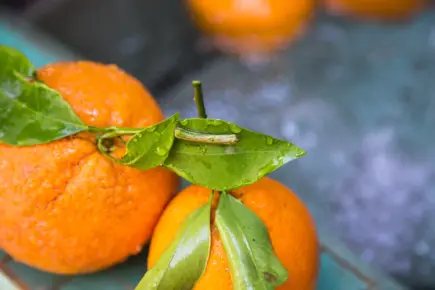 555- Tagine of Meat and Oranges / طاجين اللحم بالبرتقال
Meat ingredients:
1 kilogram (35.2oz.) of beef or lamb meat
1/2 big onion
1 tablespoon butter
4 tablespoons vegetable oil
1 teaspoon of salt
1/2 teaspoon ground pepper
1/2 teaspoon ground ginger
1/2 teaspoon ground turmeric
1/2 teaspoon ras el hanout
1/2 teaspoon ground cinnamon
1 cinnamon stick
Few saffron threads (optional)
2 tablespoons orange juice
1 tablespoon sugar (optional)
80 ml water
Orange ingredients:
3 big oranges
4 cloves
1 Cinnamon stick
250 g white granulated sugar
water
For decoration :
25 g toasted sesame seeds
Step 1: Cook the Meat:
1- Finely chop the onion.
2- Heat a tagine over medium heat then add the chopped onion, the meat, and the vegetable oil.
3- Sprinkle the meat with salt, ground pepper, ras el hanout, ground cinnamon, ground ginger, turmeric, then add the cinnamon sticks and saffron threads.
4- Add the butter and orange juice, then mix well. Cook for few minutes until the onion start caramelizing.
5- Add the water and cover the tagine. Let the meat cook.
6- Ounce cook, add the sugar.
Step 2: Prepare the oranges:
6- Zest 2 oranges and cut each into four pieces, then remove some of the core.
7- Put the orange pieces in a pan and cover with cold water, bring the water to a boiling point and let the oranges cook for 15 minutes.
8- Drain the oranges from water, then add the cinnamon stick, cloves, and sugar.
9- Cover with 250ml water and let it simmer again for about 1 hour to 1 hour and a half, until the oranges have caramelized.
10- Turn off the heat and let the cooked oranges cool down.
11- Meanwhile, peel a fresh orange and cut it nicely between the membranes, then remove the orange segment.
12- Pour the orange syrup from the caramelized oranges over the orange slices.
Step 3: Serve the Tajine
13- To serve the tagine, first plate the meat, add to it the caramelized oranges, the fresh orange segments, and finish with a sprinkle of sesame seeds on top of the oranges.
Serve immediately with crusty bread. Hmmm… delicious.
Bon appetit!