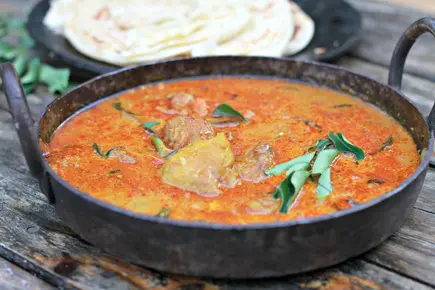 569- Alleppey Fish Curry / كاري السمك
300 grams Fish fillet
1 onion, chopped
2 tomatoes, chopped
200ml Coconut milk
1tsp Turmeric powder
1tsp Mustard seeds
20 nos Curry leaves
1tsp Chilli powder
1tsp Coriander powder
1tsp Ginger garlic paste
5tbsp Oil
Salt
Water
Step 1: Cooking the Fish
1- Cut the fish into medium size cubes.
2- Add salt and turmeric. Combine all ingredients well and let it to marinate for 10 minutes.
3- Add oil in a pan on medium heat. Once the oil is hot, add the fish and fry on both sides.
4- Once the fish is half done, remove from oil and transfer to a plate.
Step 2: Making the Curry
1- In the same oil pan, add the mustard seeds and curry leaves. Mix.
2- Add the onions. Mix and cook for 3 minutes until the onion becomes soft.
3- Add tomatoes. Mix then add some ginger garlic paste, turmeric, chilli powder, and some salt. Combine well together.
4- Add a little bit of water (about ½ cup). Mix well and continue cooking for another 5 minutes.
5- Once the tomatoes are cooked and the gravy becomes thick, add the coconut milk and mix well.
6- Add some water to finish up the sauce and mix well .
Step 3: Combine and Enjoy
1- Add the fish to the sauce and cover the pan and cook on low heat for 5 minutes.
2- Serve hot. Bon Appetit!