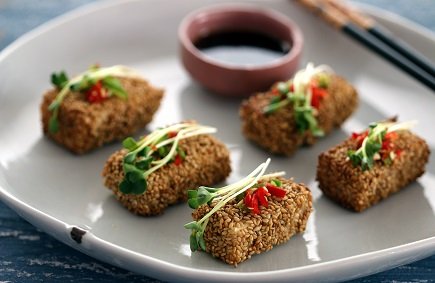 607- Tofu Sesame Pancakes (Dubu-Ggaejeon) / فطائر التوفو بالسمسم
Ingredients for the Tofu:
1/2 block of firm tofu
65 grams (1/2 cup) all-purpose flour, to coat the tofu
30 grams (1/4 cup) all-purpose flour
60 ml (1/4 cup) water
A pinch of salt
1 cup roasted sesame seeds
1 tablespoon perilla oil
1 tablespoon vegetable oil
1 Korean red hot pepper
1 Korean green hot pepper
A handful of fresh alfalfa sprouts
Ingredients for the Sauce:
2 tablespoons soy sauce
1 tablespoon green plum syrup
1 tablespoon sesame oil
1- Cut the tofu into medium rectangular shaped pieces.
2- Place flour in a bowl and coat the tofu with flour on all side, lightly shake the tofu pieces to remove excess flour, and put them aside.
3- In a separate bowl, mix together 30 grams of flour, water, and a pinch of salt in a bowl. In another bowl, place the roasted sesame seeds.
4- Dip the pieces of tofu into the mixture of flour and water, then coat them with sesame seeds.
5- Heat the vegetable oil and perilla oil on a frying pan on low heat and toast the tofu pieces from each side for a few minutes until they get a golden brown color.
6- Finely chop the red and green pepper, and cut the alfalfa sprouts the same length as the tofu pancakes.
7- For the sauce, combine the soy sauce, the green plum extract, and the sesame oil in a small bowl.
8- Serve the tofu sesame pancakes immediately topped with red and green pepper and the alfalfa sprouts. Dip in the sauce and enjoy!