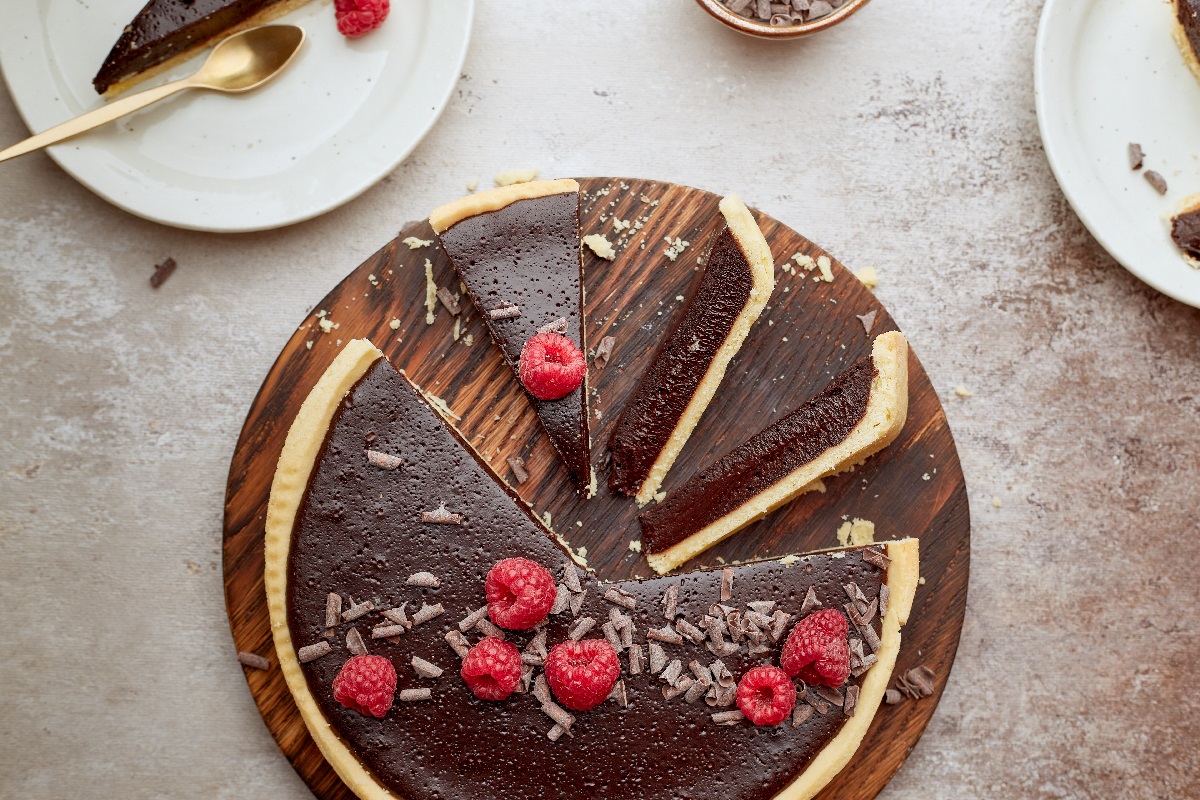 955- Chocolate Tart / تارت الشوكولاتة
For the tart crust
125g (1/2 cup) unsalted butter, at room temperature
80g (1/2 cup + 2 1/2 tablespoons) powdered sugar
1/4 teaspoon salt
1 teaspoon vanilla extract
1 medium egg
30g (1/3 cup) almond powder
250g (1 1/2 cups + 1 tablespoon) all purpose flour
For the tart filling
150g (5.3 ounces) dark chocolate (65% cocoa content)
140g (2/3 cup) unsalted butter
3 tablespoons heavy cream (35% fat content)
50g (1/2 cup) unsweetened cocoa powder
4 eggs
2 tablespoons honey
120g (2/3 cup) light brown sugar
1 teaspoon ground cinnamon
Step 1: Preparing the crust
1- In a large bowl, combine the butter, powdered sugar, salt and vanilla extract using a whisk.
2- Add the the egg, then whisk to combine.
3- Add the almond powder and flour, then combine with your hands to form a dough.
4- Cover the bowl with plastic wrap and refrigerate for 30 minutes.
5- Lightly flour your work surface, then roll out the dough to a 3mm (1/8-in) thickness.
6- Place the dough in an 23cm (8-in) pie plate and cut out any excess dough that is hanging off the dish. Freeze the crust for 15 minutes.
7- Preheat the oven to 160°C / 320°F.
8- Bake the crust for 25 minutes, then set it aside to cool.
Step 2: Preparing the filling
9- Place a large heatproof bowl over a saucepan filled with boiling water. Add the butter and chocolate.
10- Whisk the mixture until the chocolate is fully melted.
11- Add the heavy cream and mix to combine.
12- Sift the cocoa powder into the bowl, and whisk until the mixture is smooth.
13- In a separate bowl, whisk together the eggs, honey and sugar.
14- Add the egg mixture to the chocolate mixture and continue whisking over low heat for 2 minutes. Turn off the heat, add the ground cinnamon and whisk to combine.
16- Pour the filling in the cooked crust, then baked for another 10 minutes. Allow the tart to cool completely before serving.