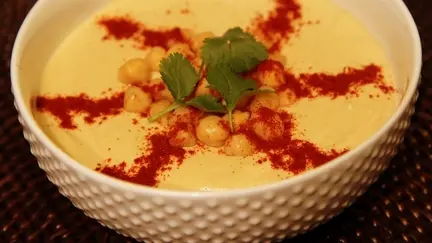 169 – Hummus – Chickpea Dip Recipe
15 oz chickpea can
1/4 cup of Tahini (sesame paste)
5 garlic cloves
1 tablespoon extra virgin olive oil
1 tablespoon fresh lemon juice
1/2 teaspoon cumin + 1 teaspoon salt (season to taste)
Wate
1- First, preheat your oven to 450 degrees F. We need the oven to roast the garlic cloves. You can use raw garlic in this recipe, but I prefer to roast it as it gives a special warm flavor to the hummus. Put 5 large garlic cloves in aluminum foil, drizzle with extra virgin olive oil, and wrap the garlic.
2- Place the garlic in the oven for about 15 minutes.
3- We will need 1 can of pre-cooked chickpeas. Of course, drain and rinse the chickpeas before using them.
¼ of a cup of Tahini, which is THE secret ingredient of hummus. Tahini is basically sesame seeds paste,  in other words it's the peanut butter of sesames! 4- Make sure to stir the tahini in the bottle before using it.
1 tablespoon of extra virgin olive oil, 1 tablespoon of fresh lemon juice, ½ a teaspoon of cumin and 1 teaspoon of salt. In general, I  prefer to add a little bit of spices to start, then adjust the seasoning later. And now add the roasted garlic cloves.
5- Add a little bit of water, around 2 tablespoons, and blend all the ingredients.  Use a spoon if to mix the ingredients in your blender if it gets stuck at some point before adding water – you don't want to end up with a hummus that is too fluid.
6- You can adjust the consistency of your hummus to your taste – if you want it thicker add more chickpeas and tahini, and if you want it smoother add more water.
7- And that's it! Decorate your hummus with some canned chickpeas in the center and paprika.
8- Serve with flat bread, crackers, or vegetables as a dip.