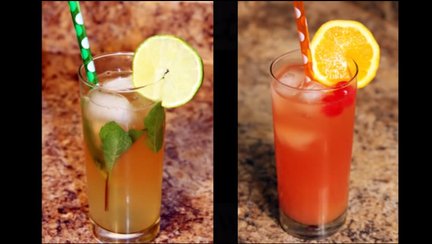 163 – Mocktails: Nojito and Shirley Temple Recipe
Nojito: 1 lime
Nojito: 10 fresh mint leaves
Nojito: 5 teaspoons sugar
Nojito: 1/4 cup lemonade
Nojito: club soda
Nojito: Angostura Bitters (optional)
Shirley Temple: Orange Juice
Shirley Temple: Ginger Ale (or Seven Up)
Shirley Temple: Grenadine
Shirley Temple: Maraschino Cherries
Making the Nojito:
Mojito is a cuban drink made of 5 ingredients, white rum, sugar, lime juice, sparkling water, and mint. But we are going to skip the rum.
1- First, roll a lime on your counter top to soften it up, so that it's easier to squeeze.
2- Cut the lime into quarters.
3- Place the lime quarters in a cup and add 5 teaspoons of sugar.
4- Now, add around 10 leaves of fresh mint to the cup.
5- Using a pestle of the back of a wooden spoon, crush the lime and mint leaves, until the lime juice dissolves the sugar.
6- Remove the lime quarters from the cup and add ¼ cup of lemonade. Stir with a spoon.
Strain the lime mixture into a glass filled with ice.
7- Fill the glass with club soda.
8- Now I am going to show you my secret ingredient when making this drink: Angostura Bitters, which is a food and beverage flavoring, and it tempers the acidity of citrus ingredients.
So if you have it, add a few drops to your mojito.
9- Stir the drink with a straw, add fresh mint leaves, and decorate the glass with a lime ring!
Making the Shirley Temple:
Now to our next drink – the classic Shirley temple, named after the Hollywood child movie star Shirley Temple.
1- In a glass filled with ice, pour orange juice till you fill a ⅓ of the glass.
2- Next pour ginger ale until the glass is filled. You can also use Seven up if you dont have ginger ale.
3- Add a splash of grenadine. Stir with a straw and garnish with maraschino cherries and an orange ring.