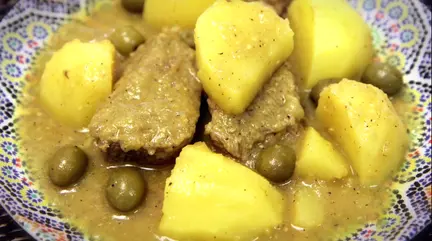 201 – Moroccan Beef Tajine with Potatoes Recipe
1 pound (500 grams) beef (or lamb) meat cut into medium sized pieces
1 medium sized onion (grated)
1 teaspoon salt
1/2 teaspoon ground ginger
1/4 teaspoon black pepper
1/4 teaspoon ground turmeric
A small pinch of saffron threads (optional)
2 tablespoons olive oil
3 garlic cloves (crushed)
4 large white potatoes
10-12 green cured olives (Mediterranean or Greek style)
3-4 cups of water (around 1 liter)
Step 1: Cooking the Meat
1- First, we need to brown the meat. In a cooking pot, drizzle the olive oil. Add the grated onion (make sure that you sqeeze the onion from all its water before adding it). Add the meat, the crushed garlic cloves, and all the spices. Mix all the ingredients using a wooden spoon. Cover your pot and cook the meat on medium heat for around 5 minutes. Turn around the meat pieces so all sides are browned.
2- After browning the meat, add 2 cups of cold water (500 ml) to the pot, cover the pan, increase the heat to medium-high, and cook the meat until done. This will take around 45 minutes to 1 hour. Check on the meat from time to time, and add water if necessary. The meat should be half-covered with sauce at all times. Taste the meat at the end of check if it is done. It should be tender and soft.
Step 2: Cooking the Potatoes
1- While the meat is cooking, peel and quarter the potatoes. If the potatoes are too large, you may need to cut them more (instead of just quartering them). You need medium sized pieces, otherwise, if the potatoe pieces are too small, they may overcook very easily and you will end up with mushy potatoes.
2- When peeling and cutting the potaotes, place them in a bowl filled with cold water until ready to use them.
3- Once the meat is done, remove from the pot and place in a bowl.
4- Place the potatoes (without the water) in the pot. Add 1 cup of water, until the potatoes are half covered, cover the pot, and cook the potatoes on mediu-high heat for 5 minutes.
5- After 5 minutes, taste the sauce and adjust the seasoning accordingly (salt, pepper, and ground ginger).
6- Add more water if necessary for the potatoes to cook. It will take around 10-15 minutes for the potatoes to be ready. Test them by cutting them in a fork, they need to be soft but not too soft, otherwise, they will turn into a puree in the sauce. The potatoes should still hold their shape.
7- Add the olives to the pot.
Step 3:  Final Steps
1- Once the potatoes are ready, put back the meat into the sauce with the potatoes.
2- Uncover your pot, increase the heat to high, and let the tagine cook for around 5 minutes until the sauce is reduced as it evaporates. The sauce will become thicker and silkier.
3- To serve this dish, first place the meat, then put the potatoes around it, pour the sauce over the meat and potatoes, then decorate with the olives.
4- Serve hot with crusty bread.