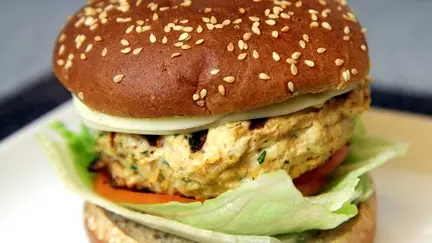 182 – Moroccan Style Burger Recipe – July 4th Special!
1.5 pounds ground Turkey (or Chicken)

1 small onion (grated)

¼ cup finely chopped parsley

2 garlic cloves (crushed)

2 tablespoons of olive oil

1 tablespoon lemon juice

1 teaspoon salt

1 teaspoon paprika

½ teaspoon ground cumin

½ teaspoon ground ginger

1 egg

1/2 cup grated cheese (mozarella, havarti, etc.)

burger buns, lettuce, tomatoes, cheese slices, mustard, etc.
Step 1:
1- You will need 1.5 pounds of ground turkey, you can use ground chicken instead. Add 1 small onion grated. Make sure to squeeze the grated onion to remove the juices from it before adding it to the meat.
2- Add ¼ cup of finely chopped parsley, 2 garlic cloves crushed, 2 tablespoons of olive oil (it is much healthier than regular oil), 1 tablespoon of lemon juice. 3- For the spices, I am using the standard Moroccan spices: 1 teaspoon of salt, 1 teaspoon of paprika, ½ teaspoon of cumin, and ½ teaspoon of ginger. Season with freshly ground pepper. Add 1 whole egg.
4- Using your hand, mix all the ingredients together until they are well incorporated.
5- Add ½ cup of grated cheese (mozzarella, havarti, or another cheese of your choice). Mix well all the ingredients.
Step 2:
1- Place the meat in a plate and flatten it to take the shape of the plate. Using a sharp knife cut the meat, as if you would cut a pie, into equal slices. This will get your equal size burgers! With the amount we have, cut 4 equal slices to get 4 equal burgers.
2- Shape the hamburgers by taking a portion of the meat and roll it into a ball. Lightly flatten the ball.
3- Place the burger patties in a plate, cover with a plastic bag and refrigerate for 30 minutes so that the meat holds better.
Step 3:
1- To grill the burgers you can use your barbeque grill or a grilling plate that you place over your stove. I am using a grilling plate.
2- On medium heat, melt some butter on your grilling plate so that the hamburgers do not stick, and when it becomes hot, place the hamburger on the grill. Cook the burgers for around 8 minutes on each side until done. To check if the burgers are cooked, you can slice a burger; the center should not be pinked but should still be juicy and not dry.
3- Heat your burger buns in the oven. Once hot we are ready to put together the burger!
4- Do not put the meat directly on the bread otherwise the bread will become soggy. First place the lettuce on the bread, add a couple of tomato slices on top of the lettuce, then place the burger on top of the tomatoes. Top with cheese slices and some mustard (or any sauce of your choice). Add the top bun and your burger is read!!!!
5- Don't you want to take a bite?
Bonne Appétit