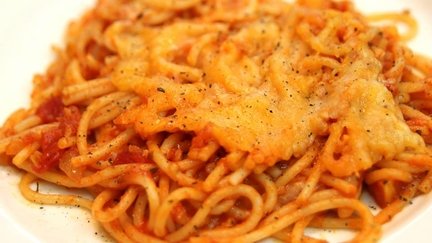 304 – My Grandmother's Pasta Recipe / الباستا على طريقة جدتي
300 grams (11 oz) of spaghetti
1 jar (685 grams) pasta tomato sauce (garlic or basil)
3 liters of water
1 medium sized onion
2 small tomatoes
1 tablespoon of crushed garlic
salt and pepper to taste
A pinch of dried thyme
Olive oil
Grated cheese
Step 1 – Preparing the Tomato Sauce:
1- Cut the onion into two,  slice each half, then thinly chop it.
2- Do the same with the tomatoes… no need to peel them, just chop as is.
3- In a pan drizzle some olive oil and heat on medium heat. Add the onions, mix well, sprinkle some salt, and cook for a few minutes until the onions become translucent.
4- Add the crushed garlic, mix well, and continue cooking for another minute.
5- Now, add the chopped tomatoes, mix, and cook for around 5 minutes.
6- Finally, add the pasta tomato sauce (any kind you like). Once you empty the pasta sauce bottle, fill it with a little bit of water, shake, and pour in the pan, this way we get every bit of the sauce plus some water too.
7- Cook uncovered for around 5 minutes.
8- Add salt and pepper to taste, and a pinch of dried thyme, the secret ingredient of my granmother –  just a small pinch, otherwise, it will have a bitter taste.
Our sauce in ready!
Step 2 – Cooking the Pasta:
1- In the meantime, boil some water with salt and a little bit of olive oil.
2- Break your spaghetti in half, and cook it in the boiling water for around 10-13 minutes (follow the instructions in your package)
3- Drain the spaghetti when it's cooked, and add it to the tomato sauce in the pan. Heat for a few minutes on medium heat.
Step 2 – Final Steps:
1- Place the pasta mixed with tomato sauce in the baking pan and cover with grated cheese. Yes, lots of grated cheese… that's also my grandmother's secret ingredient!
2- Bake for 10 minutesin a pre-heated oven until the cheese has melted.