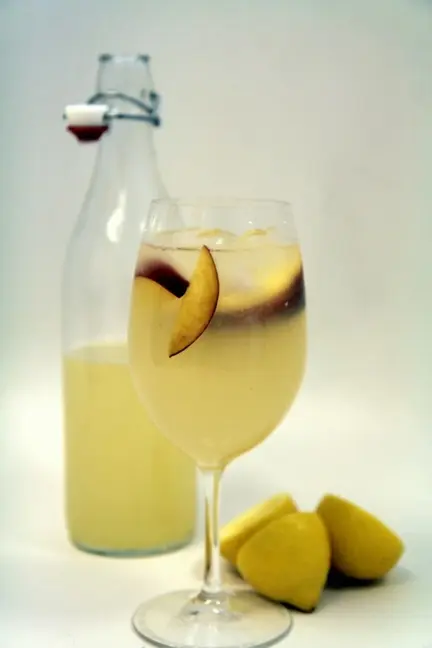 256 – Best Lemonade Ever! / أفضل عصير ليمون
1/4 cup (50 grams) white granulated sugar

1/4 cup (85 grams) honey

1 cup (236 ml) water

secret ingredient: 1 teaspoon dried lavendar

1 cup (236 ml) freshly squeezed lemon juice

3 cups (700 ml) cold water for diluting
Step 1: Making the Simple Syrup
1- In a saucepan, add the sugar, honey, and water.
2- Cook on medium high heat until the mixture start boiling.
3- Once the mixture reaches a boiling point, stir to make sure that all the sugar is dissolved.
4- Pour the sugar honey syrup in a pitcher.
5- Add your secret ingredient, for me, it will be dried lavender. You can also use vanilla bean, fresh mint leaves, or basil leaves! Add the herbs to the syrup.
6- Let the secret ingredient infuse in the hot syrup, until the syrup reaches room temperature. Then place the syrup in the fridge until it cools down.
7- Once the syrup cools down, filter it to remove any herbs you used.
Step 2: Making the Lemonade
1- Add the freshly squeezed lemon juice to the simple syrup. Mix well.
2- Lemon juice syrup is a concentrate. Now we need to dilute it with cold water to make the lemonade.
3- Add the syrup to cold water. Adjust the amount of water and syrup to your taste. Mix well.
4- To serve the lemonade, add ice cubes to your glass and peach slices (or any other fruit of your choice). Yum!!!!
Bon Appetit!