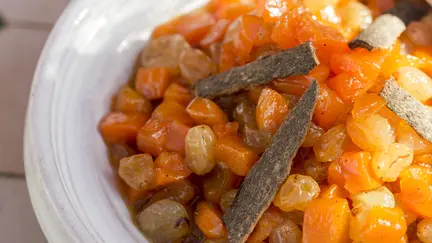 435- Carrot and Golden Raisin Salad / سلطة الجزر والزبيب
4 medium-sized carrots
1/4 cup golden raisins
2 tablespoons white granulated sugar
¼ teaspoon ground cinnamon
¼ teaspoon vanilla sugar (optional)
1 tablespoon vegetable oil
1 tablespoon fresh lemon juice
A pinch of salt
Boiling water
1- Peel the carrots, trim off the top, cut in half lengthwise, and remove the hard core. Slice each half in two, then cut into 0.5 cm (1/4-inch) dice.
2- Place the carrots in a saucepan and cover with boiling water. Add a pinch of salt, cover the saucepan, and cook on medium heat until the carrots are crisp-tender.
3- Add the golden raisins, sugar, ground cinnamon, and vanilla sugar (optional). Continue cooking uncovered, for around 15 minutes, or until the water has completely evaporated and the carrots are soaking in a syrupy sauce.
4- Finally, mix in the vegetable oil and lemon juice.
5- Place the carrot salad in a bowl, cover, and chill in the refrigerator.
Serve cool.