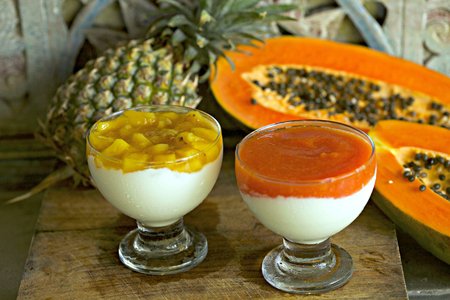 490- Mhallabia with Exotic Fruit Sauce / المهلبية بصلصة الفاكهة
For Mhallabia:
2 cups milk
3 tablespoons sugar
2 tablespoons corn starch (Maizena)
1 tablespoon orange blossom water
For Papaya Coulis:
Papaya
Sugar
Lime juice
For Pineapple Compote:
1 cup pineapple, peeled, cored and cubed
4 tablespoons brown sugar
juice of 1 orange juice
juice of ½ lime
1 tablespoon cornstarch
100 ml water

Step 1 – Making the Mhallabia
1- Pour the cold milk in a saucepan. Add the sugar and the corn starch also called Maizena.
2- Mix with a wooden spoon until all the lumps are dissolved.
3- Place the saucepan on medium heat and bring the milk to a boiling point while stirring constantly. You will notice that the milk mixture gets thicker as it gets hotter.
4- Once the milk mixture reaches a boiling point, add the orange blossom water.
5- Continue cooking the mixture for another 2-3 minutes.
6- Filter the milk mixture through a sieve to get rid of all solid pieces.
7- Pour the milk mixture in canisters, bowls, or even tall classes. Let the pudding sit on the counter until it reaches room temperature, then place it in the fridge for a few hours before serving.
Step 2 – Making Papaya Coulis
1- Cut the papaya and remove the seeds.
2- Using a knife, separate the papaya flesh from the skin. Discard the skin and cut the flesh into cubes.
3- Place papaya, lime juice and sugar in a food processor; process until smooth.
4- Transfer to a small bowl. Refrigerate, covered, until cold.
Step 3 – Making Pineapple Compote
1- Cut the pineapple, slice it and remove the core from each slice.
2- Cut the pineapple flesh into small cubes.
3- In a saucepan, place the pineapple chunks and add the sugar. Cook on medium heat until the pineapple pieces become a bit brown and the sugar caramelizes.
4- When the pineapple is golden brown, add the orange juice, lime juice and water and allow to simmer until the liquid has reduced by half.
5- Stir cornstarch in cold water and add to the pineapple to thicken.
6- Remove from the heat and allow to cool completely before serving.
Step 4- Serve and Enjoy
Serve the mhallabia cold, and top it with the cold papaya coulis or the pineapple compote. Surprise your friends and family with this classic mhallabia but with an exotic twist. Bon appetit!