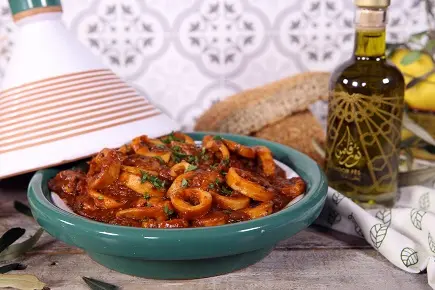 712- Calamari Tagine / طاجين الكالاماري
1 pound (500 grams) of calamari (squid), cut into rings
2 tomatoes, peeled and grated
1/2 onion, chopped
4 tablespoon of finely chopped parsley
1 (8 oz or 225 grams) can of tomato sauce
2 tablespoons of olive oil
1 teaspoon of salt
1/4 teaspoon of pepper
2 teaspoons of paprika
1- To make the sauce, cut the tomatoes in half and grate them using the large holes of the grater. Discard the skin.
2- Finely chop the parsley.
3- Cut the onion in half, and finely chop it.
4- On medium heat, heat up the olive oil for 1 minute. Use the best quality olive oil in this dish because it really affects the taste. Add the chopped onion and cook for 2 minutes. Add the grated tomatoes and cook for another 2 minutes.
5- Add the tomato sauce, salt, pepper, paprika, and half of the finely chopped parsley. Mix well.
6- Cover the pan and let the sauce cook for 5 minutes.
7- Add the fresh calamari rings to the sauce. Cover the pan and cook on medium heat for 45 minutes to 1 hour. Check on the calamari from time to time and stir.
8- When about 40 minutes of the cooking time has passed add the rest of the chopped parsley and continue cooking until the calamari is done and the sauce becomes thick.
9- Serve immediately with crusty bread!