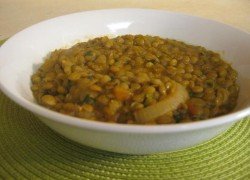 094 – Moroccan Lentils
9 oz of lentils, soaked in water for few hours
1 onion, thinly sliced
1 tablespoon of finely chopped cilantro
1 tablespoon of finely chopped parsley
2 tablespoons of olive oil
1 tablespoon of tomato paste
4 minced garlic cloves
1/4 teaspoon of turmeric powder
1/2 teaspoon of cumin – to be adjusted during cooking
1 teaspoon of salt – to be adjusted during cooking
1/4 teaspoon of pepper – to be adjusted during cooking
Add the olive oil, onion, tomato, tomato paste, garlic, and spices to your pan.
Stir all the ingredients, cover your pan and cook for 5 minutes on medium heat.
Drain the lentils from the water and add to the pan. Mix well all the ingredients.
Cover your pan and let the lentils cook for 30 minutes on medium heat. Stir from time to time. Check on the water level and add if necessary. There should always be a some sauce in the pan.
After 30 minutes, taste the sauce and adjust the salt, pepper, and cumin to taste.
Add the chopped cilantro and parsley to the lentils. Stir well. Cover the pan and cook for another 10 minutes or until the lentils are done.