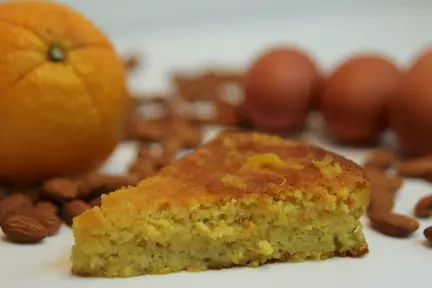 378 – Moist Orange Cake Recipe (Gluten Free) / كعكة البرتقال رطبة
1 large seedless oranges (Naval)
3 large eggs
1 1/4 cups (138 grams) of almond powder
3/4 cup (150 grams) white granulated sugar
1/2 teaspoon vanilla paste (or vanilla extract)
3/4 tsp baking powder
A pinch of salt
Orange syrup (Optional): Juice of 1-2 oranges + powdered sugar (to taste)
Step 1 – Preparing the Orange:
1- First, let's prepare the orange. Place the orange in a pot filled with cold water and bring to a simmer. At this point, set your timer to 25 minutes.
2- Now drain the boiling water, fill the pot with cold water, and do it again. Bring to a simmer, then set your timer for another 25 minutes. This will help remove any bitterness form the orange.
3- Cut the orange into chunks – be careful when handling the orange, it's hot! – and mix in a food processor until you get a smooth puree.
Step 2 – Making the Batter:
1- In a large bowl, place the 3 eggs, add a pinch of salt, and beat using an eggbeater.
2- When the eggs become fluffy, add the sugar and the baking powder. Mix.
3- Add vanilla paste and continue beating on high speed until the egg mixture becomes whitish, thick, and creamy.
4- Incorporate the almond powder to the egg mixture using a spatula.
5- Finally, add the orange puree.
Step 3 – Baking the Cake:
1- Prepare your baking pan. Brush it with butter for the parchment paper to stick, then butter the parchment paper.
2- Pour the cake batter into the baking pan, and bake in a pre-heated oven to 350 F / 180 C for around 50 minutes or until the cake has a beautiful golden brown color.
3- To check the cake is ready, gently touch the center of the cake, it should feel springy and firm.
Step 4 – Adding Orange Syrup to the Cake (Optional step)
1- Let the cake cool a bit, in the mean time prepare syrup by heating up fresh orange juice and some powdered sugar.
2- Place a plate on top of the cake, flip the cake and gently remove the parchment paper. Now place another plate on top, and flip again, so you get the nice brown surface of the cake on top.
3- Pour the orange syrup over the cake and spread the orange pulp. This is an optional step. The cake is already very moist as is, but if you want a super extra moist texture, then add the syrup. And I personally, like the pulp…
4- Let the cake cool for a couple of hours before serving.
Bon Appetit!