510- Msemen, Moroccan Square Pancakes / مسمن، الكريب المغربي المربع
Dough Ingredients:
250 grams (2 cups) all purpose white flour
250 grams (1 1/2 cups) fine semolina
2 teaspoons salt
300 ml cold water
Other Ingredients:
80 ml vegetable oil
100 grams (7 tablespoon) butter
130 grams (3/4 cups) fine semolina
1 1/2 teaspoons baking powder
1- In a large bowl, combine the flour, fine semolina, and salt. Add a little bit of water and start mixing.

2- Continue adding the water little by little and continue mixing, until all the dry ingredients are well incorporated.
3- Knead the dough by hand (or using a stand mixer) for about 10 minutes or until you get a smooth and elastic dough. Cover the dough with a clean cloth and let it rest for 30 minutes.
4- Divide the dough into 15 portions and shape each one into a ball then a thick cylinder.


5- Prepare your ingredients for shaping the dough: combine the semolina and baking powder together, and melt the butter. Drizzle some vegetable oil on your workstation and hands.
6- Take a dough portion and using your fingers, flatten it into a a very thin circle. Add vegetable oil when necessary to ease the stretching of the dough without tearing it.
7- Sprinkle over the dough circle some semolina-baking powder mixture and about 1/2 teaspoon of melted butter. This will help keep the folded layers separated once cooked.

8- Fold one side of the dough towards the center.
9- Fold the opposite side over the first side.
10- Using the tips of your fingers gently press on the strip to elongate it.

11- Fold one side of the strip towards the center.
12- Now fold the opposite side of the strip over the first side to have a square. Repeat steps 5-11 with the rest of the dough portions until all of them become squares.

13- When ready to cook the Msemen, preheat a very lightly oiled cast iron skillet over medium heat.
14- Take a dough square and using the tips of your fingers or palm gently press to flatten until the square triples in size.

15- Place the Msemen in the hot skillet and, on medium low heat, cook one side until it has a golden brown color.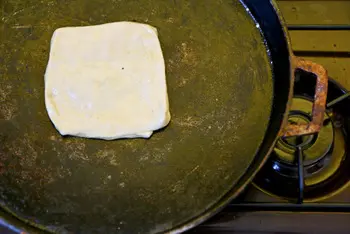 16- Turn the Msemen and cook the other side.
17- Add a bit of melted butter on the Msemen while cooking it.
18- Keep turning the Msemen several times until it is cooked. The inside should have a chewy texture but should not feel gummy or raw. If the outside of the Msemen becomes hard but the inside is not cooked, it means that the heat is too high and you need to reduce it.

19- Repeat steps 13-17 until all the Msemen squares are cooked.
20- Enjoy warm with soften butter and honey.