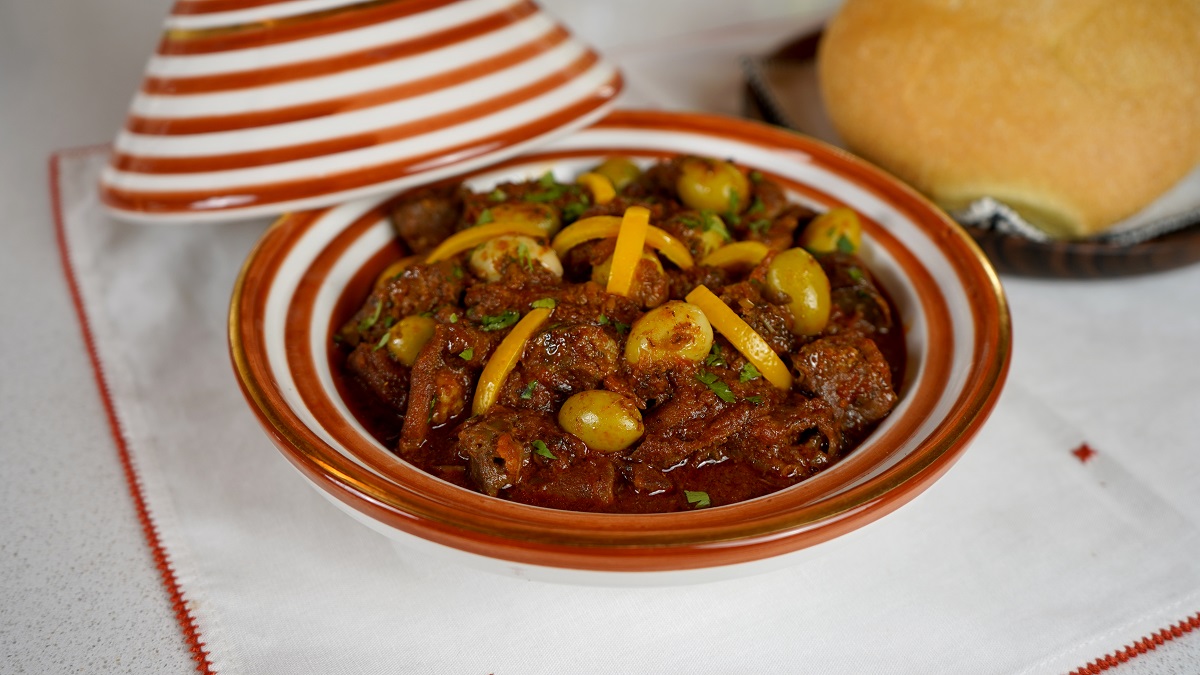 975- Tkelia (Lamb Stomach Stew) / التقلية (طبق معدة الخروف)
1kg (2 lbs) lamb organs (lungs, tripe, and fat)
1 onion, chopped
2 garlic cloves, grated
2 tomatoes, grated
1 tablespoon tomato paste
2 tablespoons olive oil
2 tablespoons finely chopped parsley, divided
1 tablespoon paprika
1 tablespoons ground cumin
1 tablespoon ground turmeric
1 tablespoons ground coriander
1 tablespoons ground ginger
Salt and pepper, to taste
1/2 preserved lemon pulp
1/2 preserved lemon, cut in half
90g (1/2 cup) green olives, pitted
Water
NOTE: Before using the lamb lining in the recipe, it should be washed with hot water and vinegar several times until the water runs clear.
1- In a bowl, place the lamb lining, lungs and fat. Cover with hot water, and wash the organs for a few times until they are clean.
2- On a cutting board, cut the organs into large cubes.
3- Heat up a pressure cooker over medium high heat. Add the organs and cook for 20 minutes until the organs are dry.
4- Add the onion, garlic, grated tomatoes, tomato paste, olive oil, spices, and 1 tablespoon of chopped parsley. Cover the pressure cooker and cook for 5 minutes.
5- Add enough water to the pot to cover the organs, then lock the pressure cooker, and cook for 45 minutes on medium high or until the organs are tender.
6- Once the organs are done and the sauce has thickened, add the remaining tablespoon of parsley, the preserved lemon and the green olives. Mix, cover the pressure cooker, then cook for a few more minutes.
7- Serve hot with crusty bread and Moroccan mint tea.