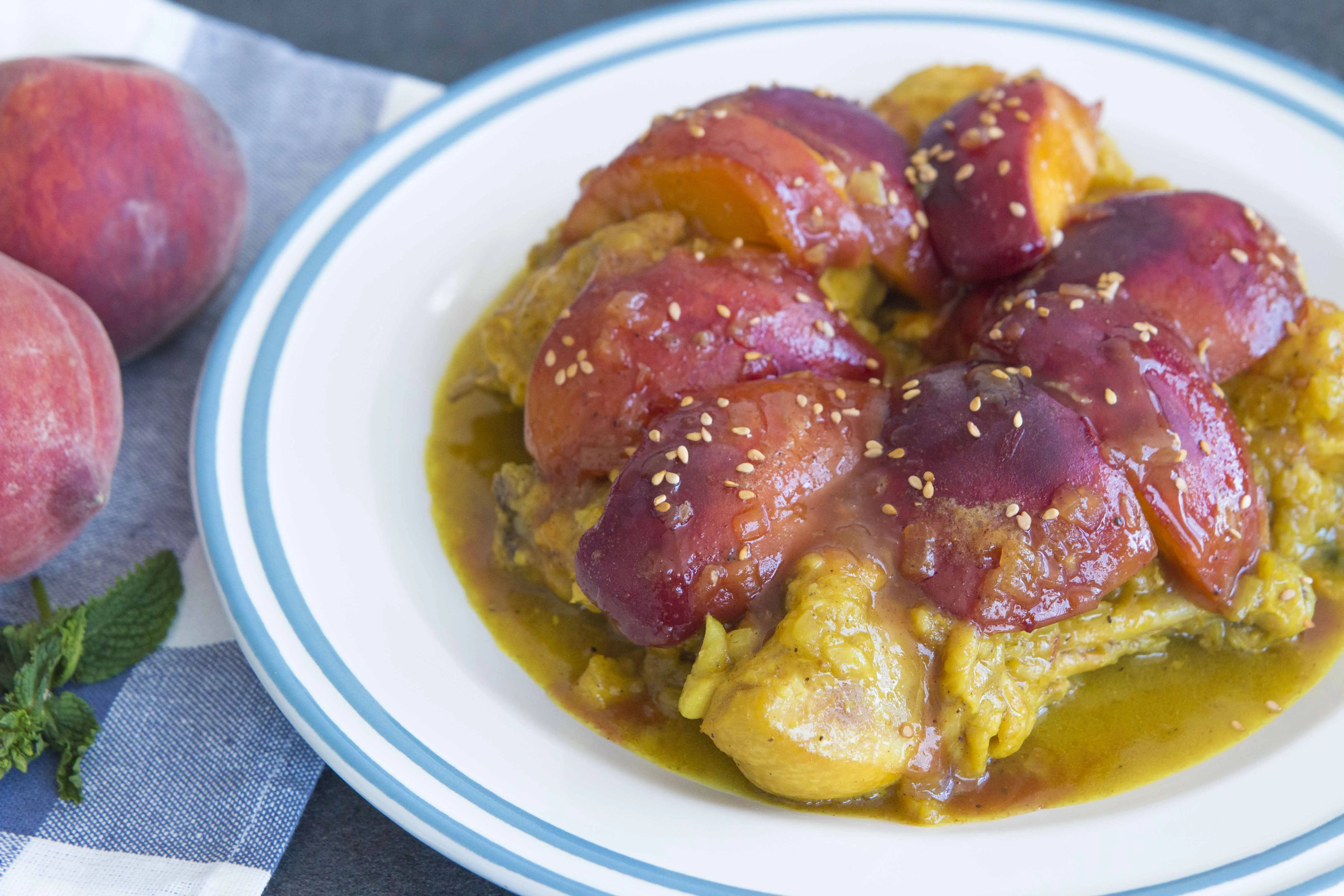 685- Caramelized Peaches Tagine / طاجين بالخوخ المعسل
Chicken Ingredients:
1 kilo (2 pounds) chicken, cut into pieces
2 tablespoons vegetable oil
1 tablespoon butter
2 onions, finely chopped
2 garlic cloves, grated
2 cinnamon sticks
1/4 teaspoon ground turmeric
1 teaspoon ground ginger
Pinch of saffron threads
Salt and pepper, to taste
A small bunch of fresh cilantro water
Peach Ingredients:
4 peaches
1 cup chicken broth
4 tablespoons honey
1/2 teaspoon ground cinnamon
2 tablespoons orange blossom water
Step 1- Cooking the Chicken
1- On medium heat, in a large pot, drizzle the vegetable oil and add the butter.
2- Once the oil heats up, add the chopped onions, garlic, salt and pepper and let it cook for 2 minutes.
3- Add the chicken pieces to the pot and mix. Cover the pot and let the chicken cook for around 5 minutes with the onions until all sides change color.
4- After 5 minutes, add saffron, ground ginger, ground turmeric, and the cinnamon sticks, mix and cover the pot for 5 minutes. Then add fresh cilantro, and water to half cover the chicken. Raise the heat to high, cover the pot, and let it cook until the chicken is ready.
Step 2- Preparing the Peaches
1- Slice the peaches into medium size slices.
2- Pour around 1 cup of the chicken sauce in a separate saucepan and place on medium heat.
3- Add the honey and ground cinnamon. Mix and simmer for 10 minutes.
4- Add the peaches skin-up. Cook them on one side for a few minutes then gently remove them.
5-Add the orange blossom water, cook for 1 minute and return back the peaches to the sauce
6- Remove the cilantro and cinnamon sticks from the pot, place the chicken in a plate, add the tagine sauce on top and around, then top with the caramelized peaches and decorate with sesame seeds and serve immediately.